Would you like a homemade meal ready and waiting for you to pop in the oven when you get home from work? Then this Freezer Friendly Chicken Tetrazzini recipe might be just what you are looking for!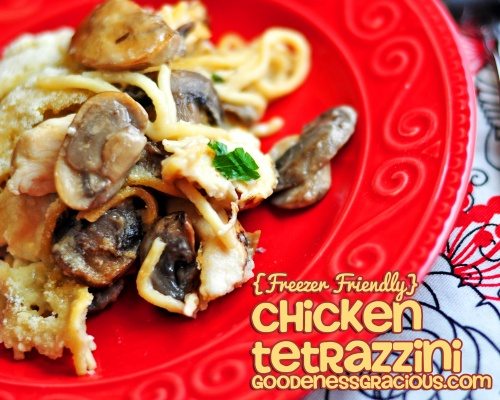 This is the meal I chose to make during my girlfriends'
marathon freezer cooking day
last weekend. I found this recipe in Gooseberry Patch's
Freezer Friendly Recipes
 and just knew I had to try it.
I have LOVED Chicken Tetrazzini since college. I have even made it (quite a bit differently) for my own freezer cooking day before.
So I was anxious to try it with all my girls!
And try it I did! I made 11 casseroles of it! 10 for me and the girls and one to giveaway to a friend.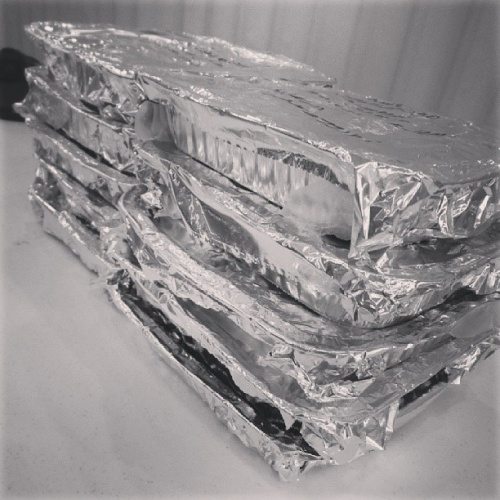 I really enjoyed this recipe even though it used Parmesan instead of my usual Cheddar.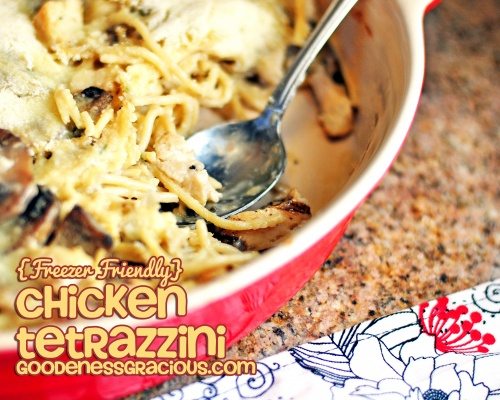 Miss Add and I really loved the mushrooms in this dish and I loved the hint of Sherry that really enhanced the mushroom flavor.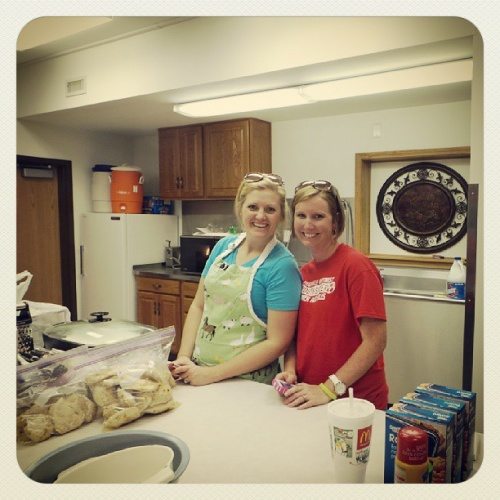 But most of all, I really enjoyed cooking with my favorite people all day long.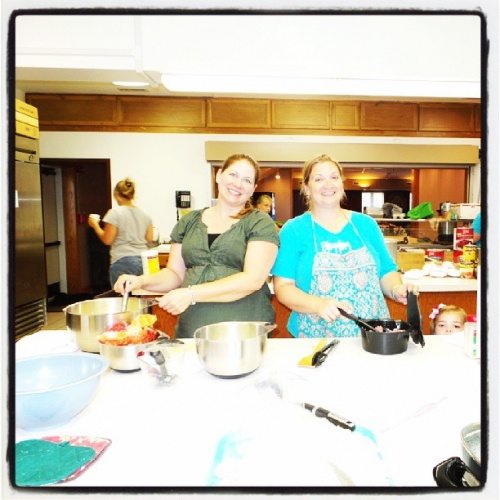 I really adore the girls (and the ones not pictured).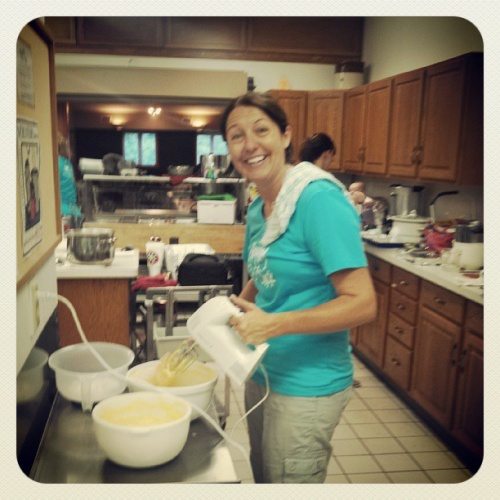 So lucky to have each of them in my life!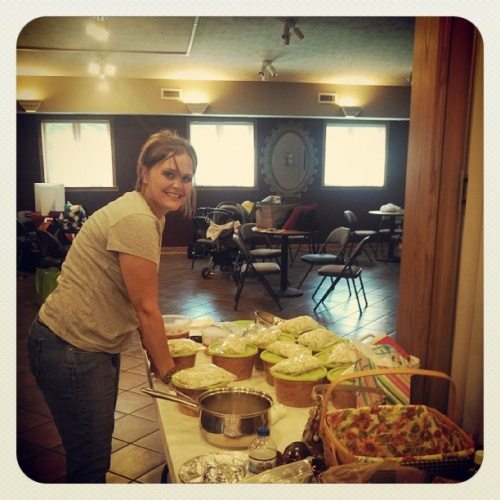 Check out Real Farmwives tomorrow and you can get a list of all their yummy recipes too!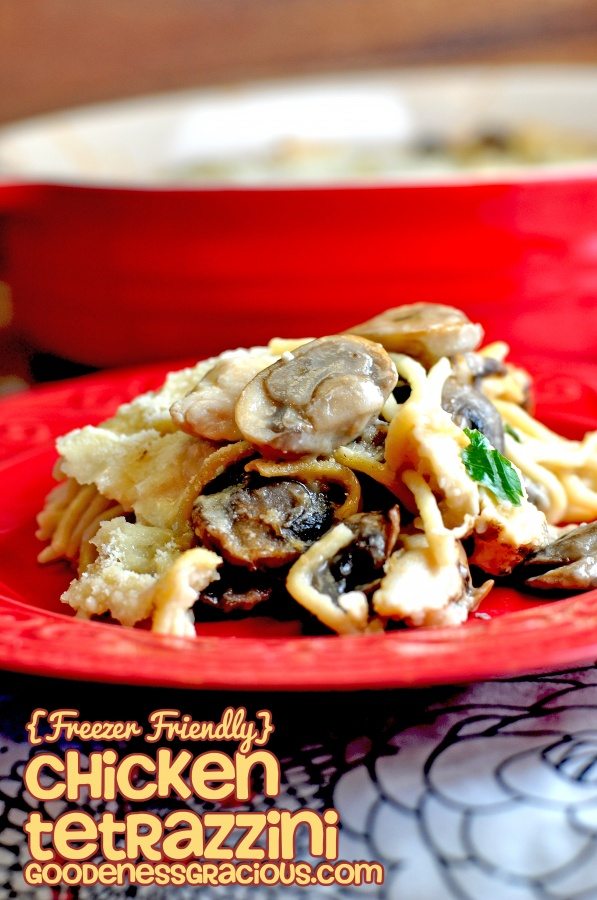 But in the meantime, here is the Chicken Tetrazzini recipe as promised.
Rating 5 from 1 reviews
Prep time:
Cook time:
Total time: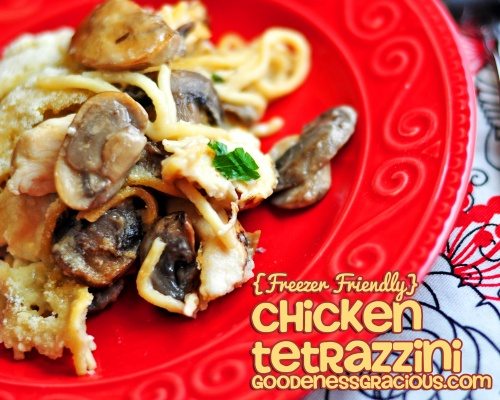 Fantastic freezer friendly Chicken Tetrazzini recipe altered from Gooseberry Patch's Freezer Friendly Recipes.
Ingredients
2 Cups Sliced Mushrooms
¼ Cup Butter
3 Tbsp Flour
2 Cups Broth
¼ Cup Half and Half
3 Tbsp Sherry
1 Tbsp Fresh Parsley- Chopped
1 tsp Salt
⅛ tsp Pepper
⅛ tsp Nutmeg
2-3 Cups Cooked Chicken- Cubed
8 oz Spaghetti-Cooked
1 Cup Grated Parmesan Cheese
Instructions
In a skillet, saute mushrooms in butter until golden over medium heat.
Stir in flour.
Add broth and stir constantly until sauce thickens.
Remove from heat and add sherry and half and half and seasonings.
Combine with spaghetti and chicken and pour into two 8 x8 pans.
Cook immediately at 350 for 30 minutes or cover tightly with plastic wrap and then with foil and freeze.
Thaw in fridge overnight and uncover and bake as directed.
Affiliate links were used in this post.
About Cris
I am the mama behind GOODEness Gracious and the owner of Cris Goode Solutions. Here at GOODEness Gracious, we like to keep it light and fun as we cook up family meals, share our super mommy secrets and chat it up about the GOODe life:) So come on in and sit a spell.