This post is sponsored by DataRank, Walmart and Kingsford Charcoal. But the sauce you are about to encounter is all our own 😉
Want to try something different with your grilled steak tonight?  You will love this sweet grilling sauce that pairs deliciously with that smokey flavor every charcoal lover adores.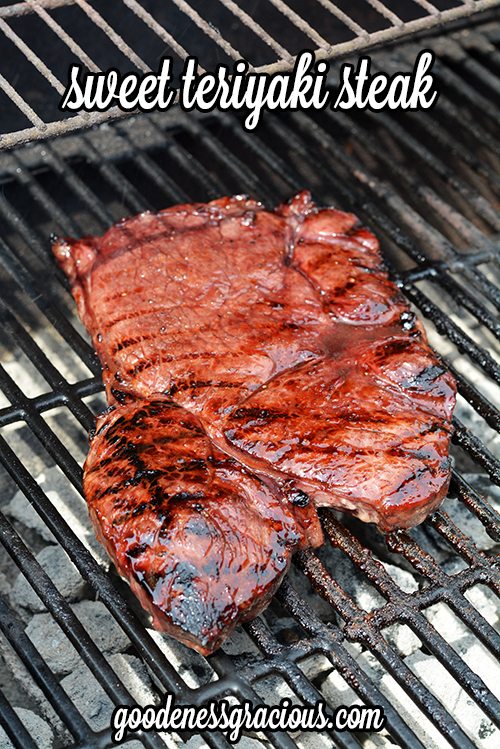 Use this  button to save this post to Pinterest
Cris here.
My husband LOVES all things raspberry-blackberry. So years ago when we visited a high-end steak house and he tried their purple steak he fell in love with the sweet berry-teriyaki sauce and set out to replicate it at home.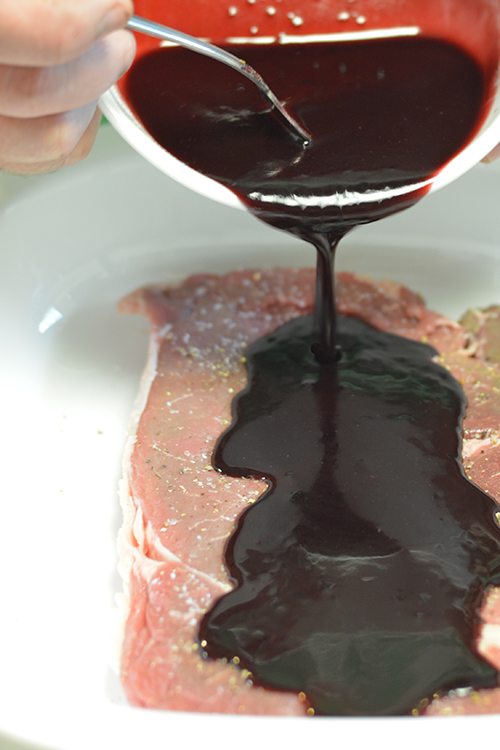 Sure enough he nailed and for years he has called it the Purple Cow. Everyone who has ever had it always asks… "WHAT is in that sauce and do you have anymore?"
So when Kingsford asked us to grill up something tasty using their charcoal and some beef from our local Walmart, we immediately knew what we would make.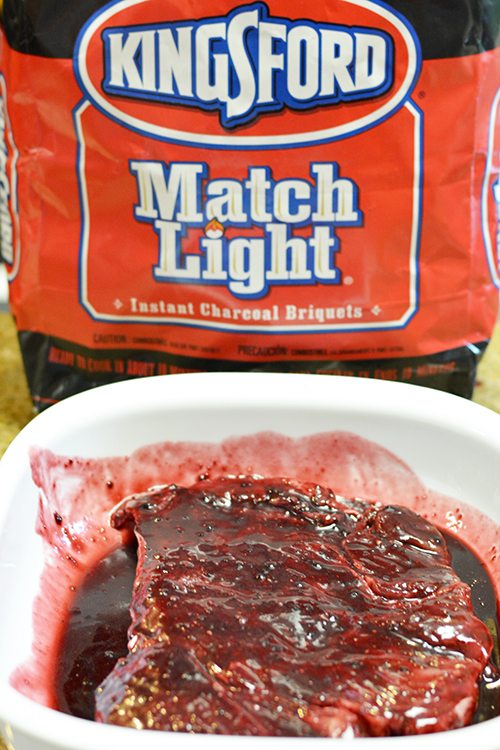 Sweet Teriyaki Steak
One might not think that raspberry-blackberry sauce would go well with beef, but one would be SO WRONG!  The sweet berry flavor mixed with teriyaki sauce and other ingredients really make this dish oh so GOODe! And, when you grill it over a bed of charcoal, it really takes the flavor to the next level.
You simply must try it.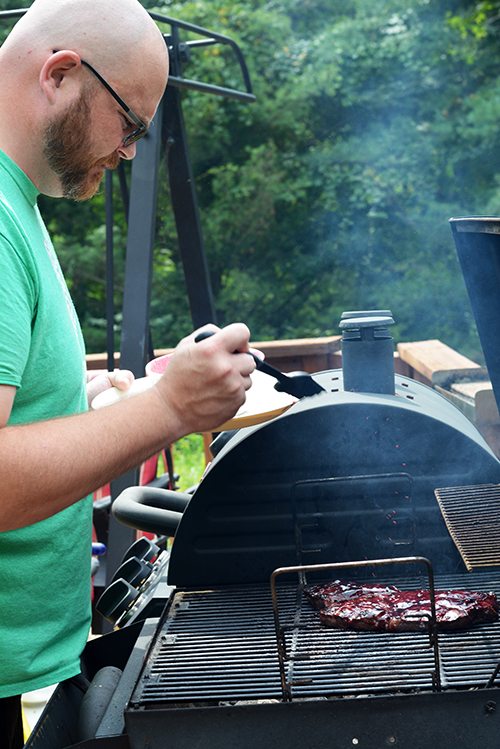 Let's Talk Beef
The hubs used a nice cut of top sirloin, but any good and tender cut of beef will work. We chose this cut because it would literally feed our whole family. He has made this recipe using all kinds of different cuts over the years. His favorite though has to be beef filet– he swears it is better than any filet you'll get in a fancy steakhouse– even the original inspiration 😉
Whatever cut you choose, Walmart has a great selection to choose from. We buy our meat there regularly and have always felt we have gotten great quality at a great price.
Psst… You can score a $1 off coupon for Kingsford Charcoal to grill up that awesome beef by clicking here.
Sweet Teriyaki Steak
Fantastic sweet grilling sauce that will make everyone ask for more!
Ingredients
Sirloin or other top cut of beef
1 cup seedless rasbperry-blackberry jelly
4 Tbsp melted butter
1 Tbsp Teriyaki Sauce
1 Tbsp Worchestershire Sauce
A pinch of garlic powder
Instructions
Salt and pepper steak in a deep dish.
In a small bowl, combine all other ingredients and whisk until sauce is smooth.
Pour sauce over steak coating both sides. Reserve about a quarter of the sauce for later.
Let meat marinate overnight if possible for more flavor.
Place meat on hot grill (best over charcoal) and grill for 4 minutes on each side.
Brush remaining sauce on steak and grill for 30 seconds on each side.
Let meat rest for 5 minutes then serve.
About Cris

I am the mama behind GOODEness Gracious and the owner of Cris Goode Solutions.
Here at GOODEness Gracious, we like to keep it light and fun as we cook up family meals, share our super mommy secrets and chat it up about the GOODe life:)
So come on in and sit a spell.