Merry Christmas!
Have you heard?
We are celebrating Christmas at the End of May this week with a giveaway of Gooseberry Patch's brand new cookbook Quick and Easy Christmas Recipes
!
For today's festivities let's check out this great little recipe for Christmas Morning Casserole.
To whip up this yummy breakfast treat, I first grabbed my best kitchen accessory…
Miss Add was in charge of the mixing bowl while mommy was in charge of the blurry camera.
Meanwhile, I popped some sausage from the freezer into my microcooker and let 'er cook right up…
6-8 minutes later…
While that was cooking up, Miss Add and I grabbed 6 eggs
Oops… we obviously miscounted… anyhoo… we then whisked them up…
Added 2 Cups of Milk
And mixed 'er up
Then we added 1 t Dry Mustard
And 1 t Dried Oregano
1 Cup Bisquick
1 Cup Shredded Cheese
I mixed it up and poured it into two square pans… one for now and one to freeze for later.
I baked them up at 350 degrees for a little over a half an hour. You should just bake until set.
Enjoy!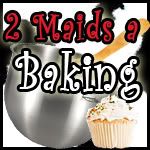 Links featured on GOODEness Gracious are often affiliate links. GG often receives products for free to review. GG opinions are however very much Cris' own. Just try to get her to say something she doesn't believe in… dare ya 😉 If you have any questions about the products or recommendations found on this blog, just pop us an email 🙂