Do you wish you had breakfast waiting on you in the kitchen when you wake up in the morning? And I am not talking Pop Tarts… (not that a nibble of a little Brown Sugar Cinnamon pastry ever hurt anyone…) No, I mean the best oatmeal you have ever had. Waiting. Right there for you when you wake up. Let me introduce you to Crockpot Steel Cut Oatmeal of the Apple Cinnamon variety.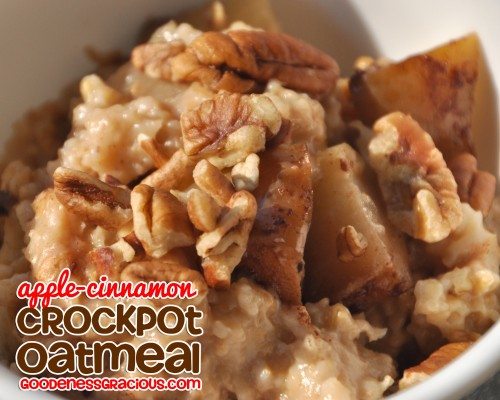 Since finding
this recipe
a few months ago, I have made my version of the recipe no less than 10 times.
Which is really odd because I am not an "add things to my oatmeal" kind of girl. And, prior to this recipe, I couldn't get Miss Add to eat oatmeal.
But now? Every member of my family cheers at oatmeal morning.
And leftovers? They are fought over…
Seriously, you should see how Miss Add can wield a spoon.
Truth be told, I have not attempted oatmeal in my crockpot before because I know my pot runs hot and let's just say I had a really, REALLY bad incident with a breakfast casserole one morning and I never want to go there again.
It really is just too tragic to discuss…
Then I read how the author of the original recipe made a double boiler (scary word I know, but couldn't be easier) by putting a bowl inside the crock and adding water around the outside of the bowl until it reaches halfway up the side of the bowl.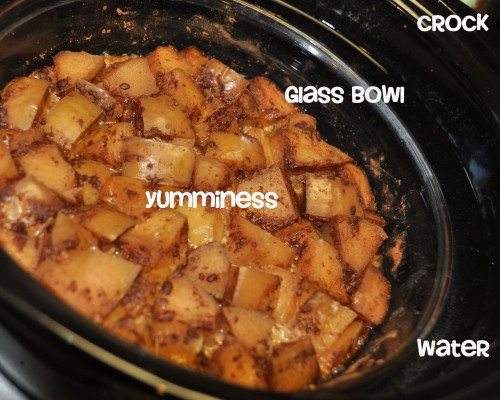 Note: Make sure you pay attention to that "halfway up the side of the bowl" part…
Not that I would know or anything, but I have heard… ahem… that if you ignore that little tidbit you might have your water boil over into your delicious oatmeal and your family –who has grown accustom to the perfect oatmeal by now — may not take too kindly to having a watery substitute… or so I have heard.
Anyhoo– back to the successful double boiler method…
It is genius.
And, it has revolutionized the way I cRock my pot!
In my opinion, so many tried and true recipes tend to be overcooked by new slow cookers these days (and that gives the pot a bad reputation in some circles). It is just that today's crockpots just run hotter (even on low) than the old days.
But this method has given me my 8 hours back. With the double boiler method, I can actually fix it and forget it for a change and that water protects my food from burning.
I mean, I might *might* just try that breakfast casserole again sometime soon…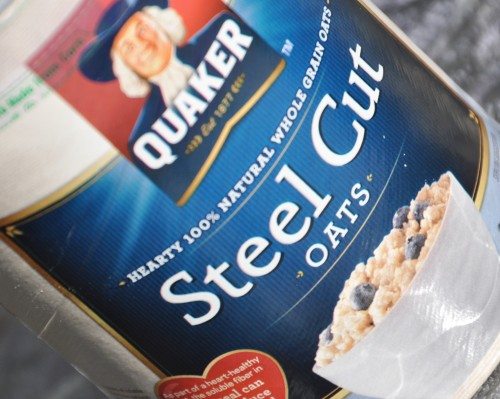 Also Note: This recipe calls for Steel Cut Oats. Do not substitute with yo mama's old fashioned oats.  Steel cut oats take longer to cook and are therefore perfect for a long night in the slow cooker.
Besides if you haven't tried steel cut oats before, dude… you are missin' out! The texture of steel cut oats takes oatmeal from a globby but  yummy mess to a really nice texture.
Truth be told– my texture queen– Miss Add loves steel cut oats which is huge in this house because she used to really hate oatmeal mornings.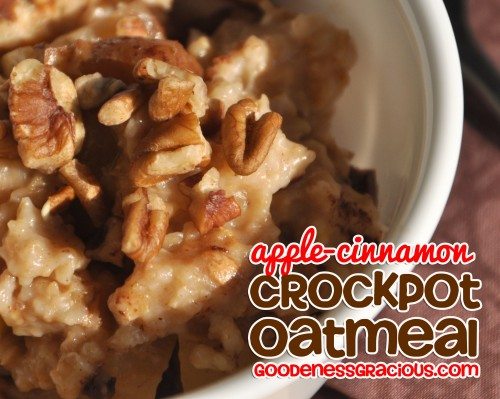 Well, enough of my yammering… are you ready for the recipe?
Rating 5 from 1 reviews
Prep time:
Total time: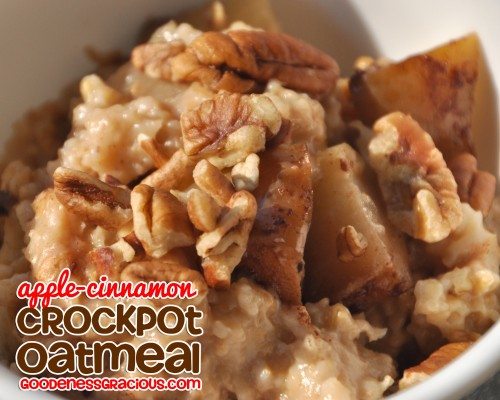 This Apple Cinnamon Crockpot Oatmeal is the perfect recipe to cook overnight and have waiting on you in the morning. It is absolutely delicious and will not burn.
Ingredients
2 Apples- Cored & Chopped (Peel if you like, I leave the skins on mine)
1 tsp Cinnamon
2 T Brown Sugar (I use Brown Sugar Splenda Blend)
1 tsp Vanilla
2 Tblsp Light Butter- Cut into Pieces
1 Cup Steel Cut Oats
1½ Cups Skim Milk
1½ Cups Water (note this is an ingredient for the inside of the bowl, additional water will be needed for double boiler)
Garnish: Nuts, Raisins
Instructions
Place glass bowl inside your crockpot and add water outside of the bowl until it reaches halfway up the bowl.
Add all ingredients inside the bowl except garnish and stir.
Cook on low for 8 hours.
Stir well and serve with garnish.
About Cris
I am the mama behind GOODEness Gracious and the owner of Cris Goode Solutions. Here at GOODEness Gracious, we like to keep it light and fun as we cook up family meals, share our super mommy secrets and chat it up about the GOODe life:) So come on in and sit a spell.