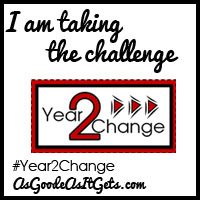 Dear Reader-
Are you up for a challenge?
It has been a little over 3 months since Puddie and I started our Year 2 Change challenge to lose the weight for GOODe.
Your support, encouragement and the accountability we feel towards you has been so critical to our success.
To date you have helped us completely overhaul our eating habits and exercise routines… while dropping a combined 46.7 lbs over the last 3 months.
It hasn't been easy… but it has been easier with you cheering us on all the way!
And now, as we approach the new year and many folks are thinking about possibly changing something about their lives… be it weight, tobacco, money management, spiritual growth, simply moving more, etc– we would like to return the favor.
You Can Make a Change
We want to tell you that despite that nagging feeling that this year will be just like the last and the one before that… we are proof IT CAN BE DIFFERENT.
We want to create an environment where you feel encouraged.
We want to offer you a safe place for accountability.
Will You Take Our Challenge?
Soo… we offer you a challenge and a chance to win $100 Amazon Gift Card for committing to your goal.
And, here is the great news… the more you work towards your goal, the more chances you will have to enter to win.
About Cris
I am the mama behind GOODEness Gracious and the owner of Cris Goode Solutions. Here at GOODEness Gracious, we like to keep it light and fun as we cook up family meals, share our super mommy secrets and chat it up about the GOODe life:) So come on in and sit a spell.